Subaru is a well-known car manufacturer with a reputation for producing reliable, high-performance vehicles. One of the most famous lines of cars produced by Subaru is the Subaru Tecnica International (STI) series. The STI series is known for its powerful engines, excellent handling, and sleek designs. However, many people need clarification on what STI stands for and what it represents.
This article will demystify the STI series by answering, "What Does STI Stand for Subaru?" We will provide a brief history of the STI series, explore its significance in the Subaru lineup, and delve into the features that make STI cars unique.
What Does WRX Mean?
WRX is a model designation used by Subaru for its high-performance sports cars. The term stands for "World Rally eXperimental," reflecting the company's racing heritage and its focus on developing cutting-edge technologies for use in competition. The WRX name first appeared on the Subaru Impreza in 1992, when the company began producing rally-inspired versions of its popular compact car. 
Since then, the WRX has become one of the most popular and recognizable sports cars, known for its powerful turbocharged engine, advanced all-wheel drive system, and distinctive exterior styling. The WRX is often associated with high-performance driving and motorsport, reflecting Subaru's commitment to pushing the boundaries of automotive engineering and design.
What Does STI Stand For Subaru?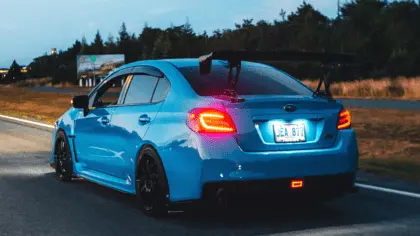 So, what does Subaru STI mean?- STi stands for Subaru Tecnica International. Subaru's in-house high-performance division is responsible for designing and developing the most advanced sports cars, including the Impreza WRX STi and the BRZ tS. 
STi was founded in 1988 as a separate entity from Subaru to produce high-performance vehicles for motorsport and street use. The STi team includes engineers, designers, and drivers who work together to create some of the most advanced and capable sports cars on the market. STi models are known for their powerful turbocharged engines, advanced all-wheel drive systems, and innovative technologies, reflecting Subaru's commitment to performance, quality, and innovation.
What Is The Difference Between A Regular Subaru And An Sti?
The main difference between a regular Subaru and an STI is the performance. While regular Subaru models are designed to balance comfort, fuel economy, and performance, STI models are engineered for maximum performance and handling.
Subaru STI models have upgraded suspension, brakes, and a more powerful engine than regular ones. STI models also feature a more aggressive exterior design, typically with larger wheels and a rear wing spoiler for improved aerodynamics.
STI models may come with various performance-oriented features, such as a driver-controlled center differential, which allows the driver to adjust the torque distribution between the front and rear wheels for improved handling in different driving conditions.
Overall, STI models are designed for drivers who prioritize performance and handling and are willing to sacrifice some comfort and fuel economy for an exhilarating driving experience.
History Of Subaru STI
1992: This marks the arrival of the very first WRX. The first Generation of automobiles is comparatively light.
1993: Now you can have a WRX station wagon. Up to the 2014 model year, a WRX with a hatchback was the only flexible option. Subaru needs to be more focused on the success of the existing Crosstrek to begin the development of a new vehicle.
1994: The first STI has now been made accessible to the public. While pink may seem like an odd choice for a racing team's signature color, it is a nod to the cultural significance of samurai and cherry blossoms in Japan.
1995: Colin McRae wins the World Rally Championship while piloting a yellow and blue Impreza 555. Subaru now offers a dazzling World Rally Blue as a WRX exterior color choice, although early models had a darker shade of blue. The color scheme was first created as part of a marketing partnership between State Express 555 and a British cigarette maker.
1998: Just 400 limited-edition Subaru 22B were made to commemorate Subaru's 40th anniversary and the company's third World Rally Championship manufacturer title. With this two-door widebody 2.2-liter boxer coupe configuration, Subarus is the most desirable model in the automaker's lineup.
In 1999, special editions weren't just available in Japan. As Subaru drivers like Colin McRae had Scottish heritage, the brand became wildly popular in the United Kingdom, and the manufacturer even produced certain limited-edition versions for the region. Prodrive, a racing specialist, adapted a WRX STI Type R to handle the harsh roads of the United Kingdom and created the P1.
2000: One of the last cars built on a GC chassis was the S201. The first of Subaru's S-line vehicles, already among the quickest WRXs, received a complete body makeover and power improvements to set it further apart.
Best Subaru STI Cars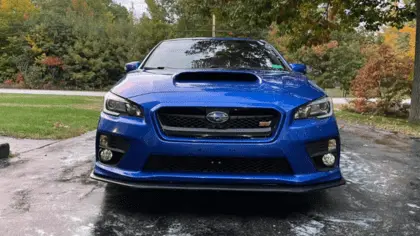 2008 WRX STI
The 2008 WRX STI is among the most popular and highly sought-after models in the Subaru lineup. It was the first STI equipped with the advanced Driver Control Center Differential (DCCD), which allows drivers to adjust the center differential's locking ratio. Additionally, the 2008 WRX STI was powered by a 2.5-liter turbocharged engine that produced 305 horsepower and 290 lb-ft of torque, making it a formidable car on the road.
2015 & 2016 WRX STI
The 2015 and 2016 WRX STI models were part of the fourth Generation, launched in 2014. The fourth Generation brought significant changes to the WRX STI, including a redesigned exterior and interior, improved handling, and a more powerful engine. The 2015 and 2016 models were powered by a 2.5-liter turbocharged engine that produced 305 horsepower and 290 lb-ft of torque, just like the 2008 model.
2000-2002 'Bugeye.'
The 'Bugeye' is the nickname given to the first-generation WRX STI, produced from 2000 to 2002. It was called the 'Bugeye' due to its distinctive round headlights. The first-generation WRX STI was powered by a 2.0-liter turbocharged engine that produced 276 horsepower and 274 lb-ft of torque. While it may not have been the most powerful WRX STI, it was still a force to be reckoned with on the road.
2017-2021 4th Generation
The 2017-2021 Subaru WRX STI is part of the fourth model generation known for its impressive performance and handling capabilities. Like previous generations, it features a turbocharged 2.5-liter four-cylinder engine that produces 310 horsepower and 290 lb-ft of torque. The engine is paired with a six-speed manual transmission and an all-wheel-drive system that gives the car excellent traction and stability in all driving conditions.
RELATED: Subaru Transmission Problems Symptoms
2022-Present 5th Generation
The 5th Generation WRX STI was launched in 2022 and is the latest addition to the Subaru lineup. Its new 2.4-liter turbocharged engine produces 400 horsepower and 361 lb-ft of torque, making it the most powerful WRX STI yet. The new WRX STI also has a redesigned exterior and interior, improved handling, and new technology features, such as an 11.6-inch infotainment display.
RELATED: Best Turbo for STI
Why Subaru STI Series Standout From The Competitions? – Detailed Explanation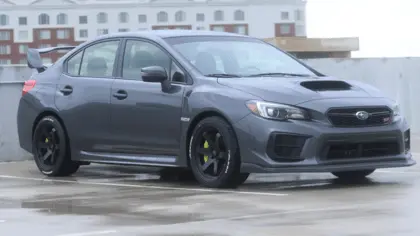 One of the key reasons why the Subaru STI series stands out from the competition is its advanced all-wheel-drive system. The Subaru Symmetrical All-Wheel Drive system is engineered to provide maximum traction and stability, even in the most challenging driving conditions. This feature makes the STI series an excellent choice for enthusiasts who want to enjoy driving in all seasons, climates, and terrains.
Another significant factor that sets the STI series apart is its powerful engines. The STI models have high-performance turbocharged engines that produce impressive horsepower and torque figures. This powertrain setup enables the car to accelerate quickly and maintain high speeds, making it an ideal choice for drivers who love performance cars.
The STI series also boasts impressive suspension and braking systems. The cars have sophisticated suspension systems that allow them to corner sharply, providing a thrilling driving experience. Furthermore, the brakes are designed to provide excellent stopping power, even in high-speed situations.
Subaru has always been known for its commitment to safety, and the STI series is no exception. These cars have advanced safety features such as airbags, stability control, and a rearview camera that enhances driver visibility. These safety features not only protect drivers and passengers in case of an accident but also help prevent accidents from happening in the first place.
The STI series' interior is designed to provide comfort and convenience. The cars have various features like climate control, premium audio systems, and smartphone integration. These features help create a comfortable and enjoyable driving experience for the driver and passengers.
Overall, the STI series' unique styling and design elements are another reason they stand out from the competition. The cars are visually striking and instantly recognizable, with aggressive bodywork, bold colors, and unique design elements that appeal to sports car enthusiasts.
Frequently Asked Questions
1. Are STI cars expensive to maintain?
STI cars can be more expensive to maintain compared to regular Subaru models. This is because of the high-performance components and specialized tuning that goes into building these vehicles. However, the maintenance cost can be reduced by servicing and caring for the vehicle.
2. Can STI cars be used for daily driving?
Yes, STI cars can be used for daily driving, but they are designed for performance rather than comfort. They can be rough on the road due to the stiffer suspension and more responsive handling. However, they are still reliable and can be used as a daily driver if you don't mind a more thrilling ride.
3. Are Subaru STIs reliable?
Subaru STIs are generally considered reliable, with a reputation for durability and longevity. However, like any car, regular maintenance and care are important for ensuring reliability and avoiding issues down the road.
4. Is the Subaru WRX STI a good rally car?
Yes, the Subaru WRX STI has a strong history of success in rally racing. The car's all-wheel-drive system, turbocharged engine, and agile handling make it a popular choice among rally drivers and enthusiasts.
5. Can you modify a regular Subaru to become an STI?
While it is possible to modify a regular Subaru to have some STI features, such as adding STI suspension or exhaust systems, it is impossible to fully convert a regular Subaru into an STI. The STI model has unique performance features and modifications that cannot be easily replicated on a regular Subaru.
Resources: